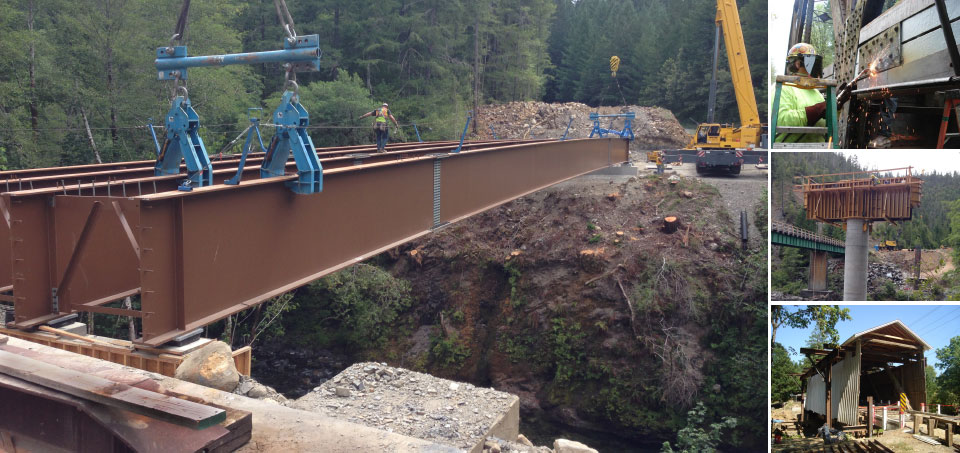 Services
Additional Construction Services & Specialties:

Trestles
Piers and Harbors
Shoreline Rehabilitation
Dredging
Demolition
Concrete
Structural Steel/Fabrication
Site & Excavation
Bridges
Bridges connect communities, and WCC builds strong, long-lasting structures that people can depend upon. We possess all the necessary components for successful bridge projects. Our extensive experience with foundations and pile driving and our ability to quickly mobilize the expertise needed to work within environmentally-sensitive areas enables us to preserve as we work in the harshest conditions.
OUR WORK
WCC met a tight project schedule in building two replacement bridges near Crescent City, Calif. The larger bridge across the Lower Smith River required the drilling of holes six feet in diameter and 40 feet down into hard rock to support two concrete piers, girders and a poured-in-place concrete deck. We built concrete abutments on the creek bank to support the deck of the smaller bridge, running across Hurdy Gurdy Creek about a mile upstream. Our project crews washed all equipment before moving it on-site or off-site and were required to wash stumps removed from the surrounding area to prevent the transfer of native plant life in the dirt to another location.
Despite the remote location of this project, we kept the job on schedule by drawing upon our own cranes and by using our considerable contacts to provide any required equipment or tools in a timely manner. We set up a mobile command station fully connected to our main office, allowing the swift exchange of information with project managers and inspectors.