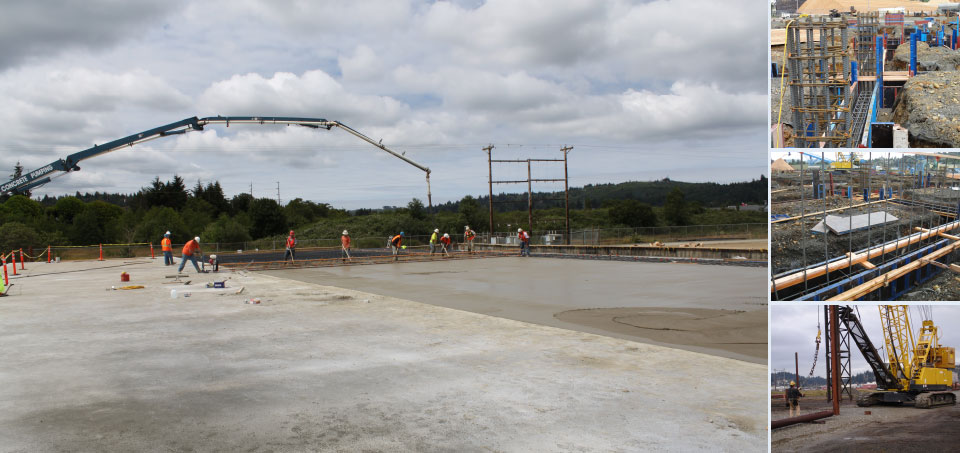 Services
Additional Construction Services & Specialties:

Trestles
Piers and Harbors
Shoreline Rehabilitation
Dredging
Demolition
Concrete
Structural Steel/Fabrication
Site & Excavation
Foundations
Building strong foundations requires a thorough understanding of the geological conditions of a project site, sensitivity to environmental concerns and easy access to the equipment necessary to get the job done efficiently and effectively.
OUR WORK
WCC's construction of the foundation for the Oregon Resources Corporation mineral processing plant and warehouse in southwestern Oregon is just one of many examples of our capabilities in this area.
WCC worked in conjunction with ORC to develop the first substantial domestic source of chromite and other valuable minerals in the United States. Due to WCC's proven experience in resolving constructability issues, we were able to add value to the project design by suggesting cost-effective engineering improvements. These changes took into account the site's geological conditions as well as the environmental concerns that stemmed from its years of use as an industrial area.
WCC prepared the site by removing contaminated soil and replacing it with a natural mixture of sand and oyster shells. Using our own equipment, WCC then drove more than 500 pilings and poured more than 8,000 yards of concrete in the site's sandy soil, creating a solid foundation that support the weight of the entire plant structure and the heavy truck traffic that uses it. WCC also constructed a complete drainage system for the site and oversaw asphalt installation, successfully delivering the entire project on time and on budget.