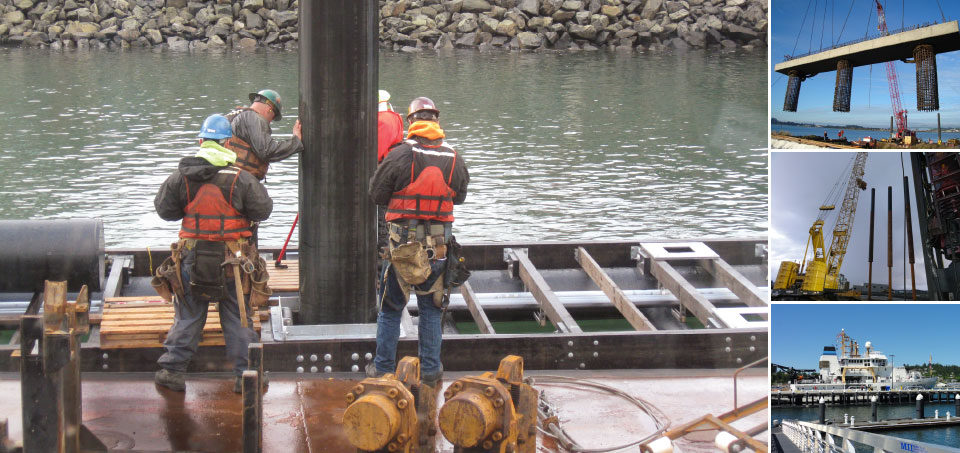 Services
Additional Construction Services & Specialties:

Trestles
Piers and Harbors
Shoreline Rehabilitation
Dredging
Demolition
Concrete
Structural Steel/Fabrication
Site & Excavation
Marine Construction
The challenges of building in a marine environment include weather, marine life, environmental agency restrictions and unforeseen obstacles such as excessive silt or hard-to-penetrate bottom composition. Our innovative solutions to obstacles in marine construction have enabled us to meet tight project deadlines and stay within budget while minimizing the impact of our building activities on the environment.
OUR WORK
WCC served as a partner in a joint venture that built the National Oceanic and Atmospheric Administration's new Marine Operations Center-Pacific in Newport, Oregon. WCC's role included the construction of the in- and over-water portions of the project involving dredging, pile driving and pier construction. Using careful scheduling and cutting-edge technology and equipment, we successfully completed the work with the least possible environmental impact.
For the pier construction, WCC developed our own GPS-guided, barge-mounted template to map the precise position of each pile in the middle of the bay. This unique system enabled us to drive the piles into water and place them in exact location. WCC used four 100- to 200-ton cranes for the work. Despite limitations on the number of piles that could be driven each day due to surrounding wildlife habitats, our teams completed the pile driving work on schedule.
Weather and ocean tides added to the project's challenges. To protect the runs of native Coho Salmon, WCC's in-water work window was limited to the winter months from November through February. We successfully overcame all challenges to complete the project on budget and ahead of schedule.