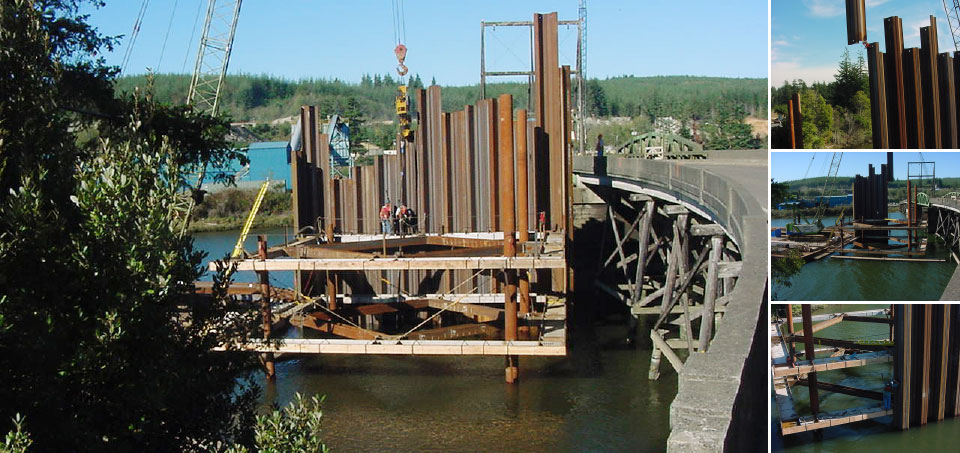 Services
Additional Construction Services & Specialties:

Trestles
Piers and Harbors
Shoreline Rehabilitation
Dredging
Demolition
Concrete
Structural Steel/Fabrication
Site & Excavation
Sheet Pile & Cofferdams
As part of our marine construction services, West Coast Contractors has frequently performed the precision work required for the installation of sheet piles and the construction of cofferdams. Although these structures are often temporary, we build them strong enough to withstand thousands of pounds of pressure exerted by earth and/or water throughout a construction project and beyond.
OUR WORK
WCC has often served as the primary contractor on sheet pile and cofferdam projects. During the construction of the Isthmus Slough Bridge in Coos County, Oregon, we worked alongside the general contractor who needed to pour concrete piers for a bridge that was being constructed. The scope of our work included building three large cofferdams, which required the installation and careful connection of interlocking sheet piles that measured up to 75 feet long and contained multiple driving templates. Working within the cofferdam, WCC crews excavated the area down more than 25 feet below the river bottom (45 feet below the water's surface). Then, using impact and vibratory hammers, WCC drove over 10,000 linear feet of 24-inch diameter pipe into the dirt and mud river floor. WCC's work enabled the general contractor to pour concrete for construction of the bridge piers.
WCC drew upon our reliable resources, including our own pile driving equipment, to complete the job successfully while meeting the project's critical in-water work schedule requirements.